Cyber Monday
Downloadable Audio

Sale
Any of the CD downloads for $7… (18 available) – $7 each or save $125 for All at $55
Guardian angels are spiritual guides that can help you navigate your adventures here on Earth. Every one of us has a guardian angel, who accompanies us from the moment we're born until the moment of our death.
Think of them as divine life coaches. Once you get to know your guardian angel, it will become much easier to sense their presence and recognize when they send you guidance.
Join me on this twenty-one minute guided meditation designed to connect you to your Guardian Angel. Listen to the words of the meditation and fully trust in your ability to connect as you breathe in light, love and peace.
My MOST POPULAR audios have been merrily marked down to promote healing, transformation, and greater connection for all.
Check out all the bells and jingles below.
THE STOCKING STUFFER CD BUNDLE:
$125 in SAVINGS! WHOA, HO, HO!
As you can see, there's no pouting or shouting necessary, my friend!
This is your chance to join thousands of others who have used these very products and tools to achieve:
PLUS YOU get to SAVE BIG!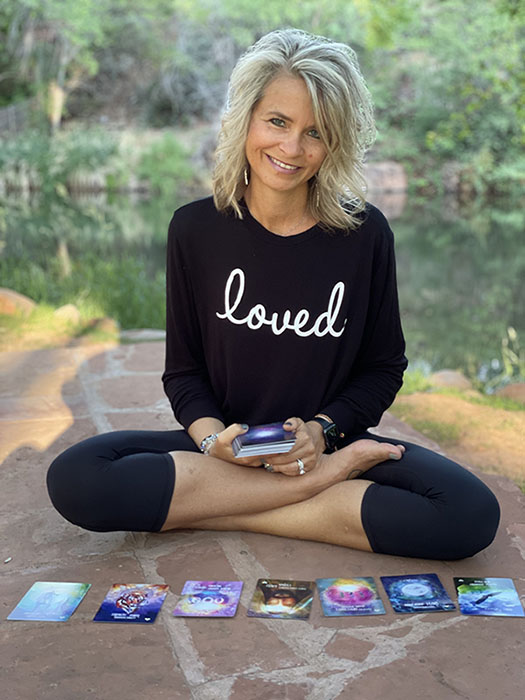 Sunny Dawn Johnston is an acclaimed psychic medium, changemaker, transformational thought leader, and spiritual biz mentor. She is the author of twenty-one books, including her flagship bestsellers, Invoking the Archangels and The Love Never Ends, which have become the cornerstones for many of her keynote topics such as intuition, mediumship, and the angelic realm.
Through her courses, private sessions, and live events, Sunny has grown and cultivated a diverse global community. Whether in-person or online, her strong mentorship encourages thousands of students to connect with their heart and the core of their being and guides them to experience life in a higher vibrational, multi-dimensional way.
Sunny is also the creator of the ELEV8 Your Life membership site… a virtual community focused on designing a high-vibrational life – bursting with abundance, self-love, and joy. Leading the ELEV8 Your Life community, Sunny focuses on accountability, support, and guidance as the solid foundation of intentional and lasting transformation. All are welcome to join ELEV8 Your Life, where members have exclusive access to 20+ years of her knowledge and teachings.
Sunny's biz membership, My Spiritual Biz, is a community for heart-based entrepreneurs. Sunny's 30 years of business experience and her multi-million dollar generating team guide and mentor members who are starting, building, or growing a spirit-based business. Sunny and her team of experts provide the bridge between envisioning and actualizing your entrepreneurial dreams.
SDJ Productions has expanded Sunny's work beyond writing and speaking engagements and into publishing books, CD's, and oracle card decks. Her latest projects are: The Multi-Dimensional Oracle Card Deck & Oracle Cards 101: A Guidebook to Understanding Divination. Sunny believes it is time to embrace ALL of our BE-ingness … and to do that, we must let go of what we have been taught about living in this 3D reality. There is so much more, and it is calling us to ascend, expand and embrace our multi-dimensional reality. She is on a mission to help others connect and align with the true power of their being as well.
In her spare time, Sunny is actively involved in the spiritual community and volunteers as a psychic investigator for the international organization FIND ME. This is a non-profit organization of Psychic, Investigative, and Canine Search & Rescue (SAR) volunteers collaborating to support law enforcement and families of missing persons and homicide victims.
Check out more info on Sunny at https://sunnydawnjohnston.com/